'Norwegian' Dating Sites*
Along with Norway Passions (the site you are on now), the sites listed below all focus on connecting Norwegian singles with others who are interested in dating singles in or from Norway. The sites listed below range from those focused on Norwegian Dating to others focused on Norwegian Chat. The primary goal is to connect people though. Each site, regardless of the company running it, shares many of the same characteristics as many of the other sites. So, if you are looking for a great dating site focused on Norwegian singles, then there are MANY here to choose from, so look through the ones below to find the one that seems like the best fit for you.

Norwegian Dating VIP
Norwegian Singles Online
Norwegian Dating VIP is a quality online dating site designed to help connect singles from Norway. If you are Norwegian or you are interested in dating Norwegian singles, then this could be the perfect site for you. Join for free and explore the many features and the many members.


AD

Norwegian Senior Next
Norwegian Single Seniors
While it is a cliche, age is just a number and people do not stop falling in love just because they grow older. If you are single and Norwegian and you happen to be more on the older side than the younger side, then Norwegian Senior Next could be for you. Enjoy a site where you are surrounded by others who grew up in the same general time you did. It makes it easier to break the ice when there are not decades of age difference between you. Join for free to see if this could be the site you are looking for.

Norwegian Online Dating
Find Norwegian Singles
Norwegian Online Dating is one site in a large network of sites bringing together singles from around the world, so if you are interested in Norwegian singles, this could be the site for you. Join for free and search for members in Norway, or just browse the existing members and the features within the site. Enjoy!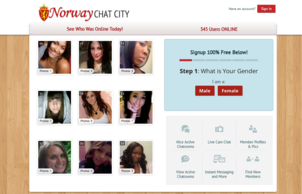 Norway Chat City
Chat With Norwegian Singles
If you are looking for a site to help you connect with other single Norwegians, then Norwegian Chat City is the site for you. Enjoy a site where you can get to know other Norwegian singles online before ever deciding to meet in the real world. Join for free and explore the many options available within the site.

Norway Gay Life Partners
Find Your Gay Partner In Life In Norway
If you looking for single gay men in Norway who are interested in real relationships, then Gay Life Partners is a great place to start your search. While there are plenty of gay dating apps designed to connect men, there are not that many focused on connecting men for long term serious relationships. Join today to see if the man of your dreams is online and looking for a guy like you right now.

Norwegian Single Expats
Find Norwegian Expats
There is something to be said in connecting with people from your home country or connecting with people in your home country. Norwegian Single Expats has been designed specifically to connect Norwegian expats with one another. If this is what you are looking for, then this is the site for you.

Norwegian Personals
Browse Norwegian Personals
Looking for singles from Norway? Norwegian Personals is designed specifically to help connect Norwegian singles online. Join for free and explore the many features of the site as well as the members. Have fun!
AD
*Sites listed on this page are a combination of ads, affiliate related Sites and general non-partnership related sites that match the theme of Norway Passions.